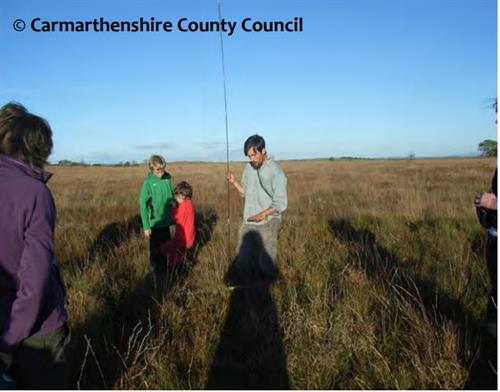 Carmarthenshire Bogs – exploring their past, celebrating the present and conserving the future
A partnership led by Carmarthenshire County Council has been successful in receiving a grant of £43,000 from the Heritage Lottery Fund (HLF).
The project, also supported with funding from Natural Resources Wales and Carmarthenshire County Council, will seek to explore the history of the bogs, celebrate the special bog habitats and species, and take action to conserve these important habitats for the future.
There are five sites included within the project. They all consist, in the main, of lowland bogs, heathland and marshy grassland habitats on Section 45 common land, i.e. common land for which there is no known owner. The sites appear to be little known to local communities but have a considerable biodiversity, landscape and cultural heritage value. These bogs lie within an area that has been identified by Natural Resources Wales as a wetland priority area for lowland bogs in Wales.
The project will run until December 2016 and will:
analyse a peat core from one of the deepest bogs (8-9m deep). Swansea University will reconstruct and catalogue the changes that have affected the peat bogs over the last 8–9000 years by exploring the clues preserved within the bogs. These are untapped records of environmental change and human activity in the past. Pollen grains along with plant and charcoal fragments will provide a record of vegetation changes and fire history, whereas the degree of decomposition can be used to reconstruct changes in wetness at the peat surface.
organise a session for the public with Swansea University to take a peat core from one of the bogs and help them with their investigations on site.
have a peat day at the National Botanic Garden Wales where people can look at samples of the peat under a microscope – look at ancient sphagnum and pollen thousands of years old, take part in a print screen workshop, make Bronze Age pottery and listen to storytellers.
work with local schools on one of the common to explore a remarkable group of Bronze Age round barrows and find out more about the prehistoric landscape and the people who lived there.
cut firebreaks, block a ditch and remove fly tipping and Japanese knotweed – helping make the sites more suitable for grazing and protecting them from arson.
work with local tourism providers to become ambassadors for the site and promote them to visitors.
For further details on the project please contact Isabel Macho